TMD Inspiration
Adding a "Tiny Home" Office Space
1350 Beverly Road, Suite 115
PMB 143
McLean, VA 22101
Interested in working with us?
Use the contact form to tell us more about your project. Someone will get back to you within 48 business hours.
Creating inspired interiors for discerning clients since 2003. Accepting clients in DC, Virginia, Maryland, and select cities throughout the United States.
Adding a "Tiny Home" Office Space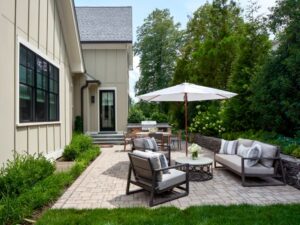 When adding value to a home, kitchen and bathroom additions/renovations are always mentioned as the two areas where homeowners will see the most return on their investment. However, in 2020, perhaps the most strategic addition you can make to your home is a new office — and, even better, a stand-alone "tiny home" office in your backyard.
Here are some of the many benefits of adding an outdoor office and several items to consider:
Extra Living Space. Added to your backyard, a prefabricated office space or tiny home can add significant value and needed space at an affordable price (typically around $120 to $180 per square foot depending on size and options).
Work-Life Balance. One of the most frequently cited challenges of working-from-home is the ability to create a healthy work-life balance. Suddenly, our homes have become the focal point of work, personal/family time, and relaxation. The creation of a designated workspace helps to create a clear divide between work hours and free time. Creating healthy boundaries may have a positive impact on your overall wellbeing. An added bonus — you can't beat the commute time.
Ability to Customize. Speaking of customizing, here are some additional things to consider: add soundproofing to decrease neighborhood noise, such as lawnmowers, dogs barking, children playing, etc.; use plenty of windows and French doors to allow the natural light in; and design built-in shelving solutions for easy storage and organization.
Out of the Zone. One of the drawbacks of doing a home renovation or addition is the chaos of living in a construction zone. However, when constructing an outdoor office space, you don't have this issue. You get all the fun of an addition (such as selecting flooring, paint colors, and furniture) without the noise or hassle of construction. Also, there are fewer engineering considerations in a stand-alone building — for example, you don't have to tie foundations or roof-lines to the existing home.
Future Flexibility. While we weather the Covid-19 pandemic, many of us are looking for a space for a home office or distance-learning classroom. However, in several years, these uses may no longer be a priority. At that point, a finished outdoor space can quickly be transformed into a home gym, game room, or any other space that is advantageous for you or your family at that time.
Additional Considerations. In general, it is fairly easy to pull the required permits to add an outdoor home office to you property. However, each jurisdiction in the DC metro area has its own requirements — please look at your county's individual requirements and make sure you ask your contactor if you have any questions. In addition, consider any homeowners' association (HOA) restrictions that may apply. Another thing to consider is construction time. Depending on the size of the space and the details that you choose, it can take anywhere from six weeks to three months to complete and outdoor office space.
Please contact me today if you would like to discuss adding an outdoor office space to your existing home.