TMD Inspiration
A Guide to Your Basement Remodel
1350 Beverly Road, Suite 115
PMB 143
McLean, VA 22101
Interested in working with us?
Use the contact form to tell us more about your project. Someone will get back to you within 48 business hours.
Creating inspired interiors for discerning clients since 2003. Accepting clients in DC, Virginia, Maryland, and select cities throughout the United States.
A Guide to Your Basement Remodel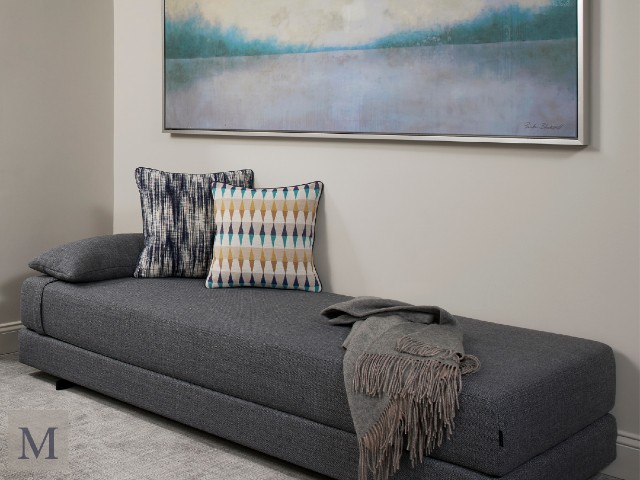 If you need a change and want to maximize that coveted square footage, undergoing a basement remodel is a great project. For many, basements are scary places for storing holiday décor and unused furniture. But, renovating a basement can provide a high return on investment and is one of the most customizable home improvement projects. For example, a basement remodel can be for younger parents needing a safe, childproof area or a home gym for the perfect exercise spot. Or it can be a great place to add extra work space with a home office. No matter what you're looking for, keep reading for a guide on how to best add additional living space during your basement remodel.
Understanding Unique Factors
Before undergoing a basement remodel, there are certain factors that are unique to basement spaces that are important to address. Moisture can be a huge issue throughout basement remodels, especially in the DC metro area. It is essential to look at the structural work of your space because moisture can affect your flooring and cause cracking and mold growth. Getting your space professionally inspected and promoting air circulation throughout the renovation process is a great way to avoid this problem. Additionally, implementing waterproofing around your home, such as installing water alerts near water heaters and laundry areas and working with waterproof materials such as water-resistant underfloor systems, can further address moisture problems.
Project Scope
Understanding what you best want to use your basement space for, whether that's additional bedroom space, adding a wine cellar, creating a home gym, or even a home movie theater, is important to mapping out the design plans for the remodel. The purpose of your space informs the rest of your basement remodel, so understanding exactly how you want your space to be used is important to drawing designs. And if more than one option sounds appealing, you don't have to limit yourself. Many homeowners implement "zoning" in basement spaces to make the most out of their space and separate different areas, such as a playroom and a gym, into different zones.
Lighting
Because basements are below grade, you will be working with limited natural light. Maximizing the natural lighting in your space through light wells can let light into a basement in a luxurious way. Additionally, recessed, top, can, and track lighting is easily installed and make a big difference in ambiance. Adding additional light sources such as wall sconces, recessed spotlights, and fluorescent or LED wall washers can make the room feel brighter and get the look of ambient natural light, which is necessary for basement remodels. Adding a light wall color can also make a difference in making your space feel lighter and brighter. See my article, Color Schemes for Dark Spaces, for more ideas.
Local Laws and Permits:
Basement remodels involve a lot of permitting and building codes, so it is important to understand local permitting laws and to work with a contractor who understands these regulations. These include but aren't limited to the usage of smoke and CO detectors, outside combustion air for the furnace or boiler, using flame-retardant building materials, and installing egress windows.
Play with Style
The best part about basement remodels is how fun they can be. And because basements are separated from the rest of the home, they can be a great place to try new styles that might clash if they were upstairs. Adding accent walls, wallpaper, and different furniture styles are great ways to play around in your space and have fun with it.
Are you hoping to do a basement remodel in the near future? Contact me today!