TMD Inspiration
Top Design Trends for Fall 2020
1350 Beverly Road, Suite 115
PMB 143
McLean, VA 22101
Interested in working with us?
Use the contact form to tell us more about your project. Someone will get back to you within 48 business hours.
Creating inspired interiors for discerning clients since 2003. Accepting clients in DC, Virginia, Maryland, and select cities throughout the United States.
Top Design Trends for Fall 2020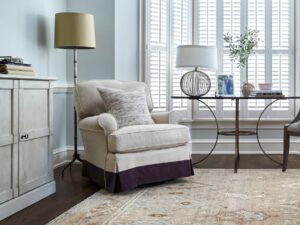 It is safe to say that 2020 is not turning out to be the year that any of us predicted. Many of us are spending more time at home, so it is only natural that we want a space to refresh, rejuvenate, and feel truly at home. Whether out of necessity or desire, here are some of the popular design trends we are watching as we head into the second half of the year.
A Mix of Old & New
Grandmillennial style is all about celebrating pattern, texture, and color – and a lot of it. Blending elements of classic design (such as chinoiserie, natural fiber rugs, and topiaries, and Grecian details) with clean lines and modern art. Look for furniture with European-inspired detailing, such as sloping arms and metal legs, for a timeless look.
A Touch of Warmth
Warmer toned palettes and rich accent colors are making a comeback. This fall, shades of chocolate brown, wine, olive green, and yellow ochre will be popular choices for fabric and paint. Painting an interior door in a rich color adds warmth and character to any space.
Add a Bit of Drama
Soft and feminine wallpaper and tapestries are becoming a focal point of any room. And don't just stop at single accent wall – add drama throughout by covering all the walls of the room. This look is especially popular in bathrooms.
Embrace Nature
By incorporating things such as natural lighting, ventilation, and landscape features, Biophilic design brings the outdoors in can make your living space beautiful while at the same time improving mental and physical health. For example, an indoor vegetable garden creates a unique and beautiful feature as well as an air purification system, helping to clean the air we breathe (learn more in my recent article Ways to Refresh Your Home this Spring).
Choose Fabrics Wisely
Performance fabrics, such as those from Perennial Fabrics, continue to change the way we live our day-to-day lives. These solution-dyed acrylic fabrics are available in an array of colors and styles, making every room functional for the entire family while maintaining a fashionable aesthetic.
Get the Most Out of Your Space
Do you really need your formal dining room or that extra guest room that isn't being used? Living spaces are becoming more open and fluid; repurposed as home offices or school rooms. Need extra storage space? Many homeowners are converting unused rooms into dressing spaces or storage rooms.