TMD Inspiration
Ways to Refresh Your Home this Spring
1350 Beverly Road, Suite 115
PMB 143
McLean, VA 22101
Interested in working with us?
Use the contact form to tell us more about your project. Someone will get back to you within 48 business hours.
Creating inspired interiors for discerning clients since 2003. Accepting clients in DC, Virginia, Maryland, and select cities throughout the United States.
Ways to Refresh Your Home this Spring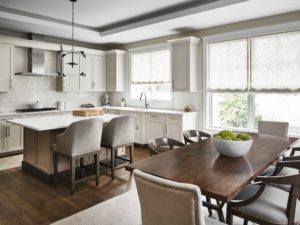 Let's face it … this spring is a bit different. This time of year, we are typically preparing our homes for special events such as Mother's Day and graduations. This year, we are more focused on creating a safe and comfortable space away from coronavirus. Here are some tips on how you can make your home a safe haven from germs and still have fun.
Clean & Declutter
Leading psychological research has revealed a correlation between household clutter and stress and anxiety. Living in a decluttered home helps improve mental and overall health. But the health benefits go beyond just the psychological; individual cleaning tasks such as vacuuming, ironing, and gardening can burn between 150 and 300 calories. If you need to destress, pick up a cleaning rag and a duster (and burn calories) with a thorough house cleaning.
Practical Beauty
Once you have cleaned and decluttered, look for creative ways to display everyday items. For example, use an elegant container for hand sanitizer or soap. If you are fortunate enough to have Lysol wipes on the counter, place it in a metal canister. Beautiful laundry baskets can help spruce up the chore of folding laundry.
Add a Garden
Many of us are choosing to cook and eat at home these days. Creating a vegetable garden can help add variety to your cooking and keep you from needing to make frequent trips to the store. An added bonus: studies show that plants can act as leafy air filters to help clean the air we breathe in our homes. Most herbs will grow easily indoors, but when it comes to vegetables, some may do better outdoors. Try the following:
Tomatoes
Arugula
Bell peppers
Mushrooms
Beans
Kale
Carrots
Sprouts
Radishes
Spinach
Lettuce
Potatoes
Alliums such as chives and scallions
Herbs of all kinds
Edible flowers
Double Duty
We are all doing double duty right now, including our furniture. Need the perfect place for your children to do their remote learning? A new storage console doubles as a desk for homeschooling children. Include a white board, bulletin board, or paper on an easel to help young learners track their work as well as their daily schedule.
Warm Thing Up
In terms of home décor, we are seeing that warm neutrals are taking the place of cool grays and blues throughout the home. Try adding accessories in shades of chocolate brown, wine, olive green, and warm yellows to add a pop of color to your living space.
For additional tips on traditional spring cleaning, please visit the Home Care section of my blog.