TMD Inspiration
Finding the Perfect Kitchen Design
1350 Beverly Road, Suite 115
PMB 143
McLean, VA 22101
Interested in working with us?
Use the contact form to tell us more about your project. Someone will get back to you within 48 business hours.
Creating inspired interiors for discerning clients since 2003. Accepting clients in DC, Virginia, Maryland, and select cities throughout the United States.
Finding the Perfect Kitchen Design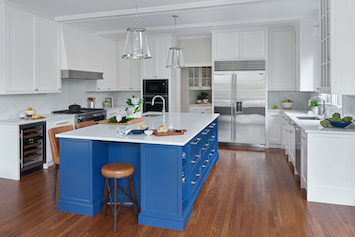 If you are undergoing a kitchen renovation, finding the perfect kitchen design can make or break the success of your project. Making sure you love your kitchen design combines many elements, from the layout to the color scheme, to create a harmonious and practical space that satisfies both your functional needs and aesthetic desires. From understanding the placement of appliances to countertops and cabinets, your kitchen layout is one of the most important parts of kitchen design. It plays a pivotal role in its functionality. Keep reading for tips on understanding different kitchen layouts to find your perfect kitchen design to suit your taste and needs.
Kitchen Design: U-Shape
The U-shaped design is an excellent layout for both small and large kitchens. It can maximize storage solutions as it features cabinetry on three walls that create a U-shape and define the cooking zones, making it a great option for busy cooks considering a kitchen renovation.
Pros: This shape is the perfect layout for a work triangle as it is a natural fit within the U-shape, allowing all the essential appliances and workspaces within arm's reach. This shape allows multiple cooks to navigate the kitchen as foot traffic flow doesn't disrupt the workflow. This shape has plenty of countertop space and storage.
Cons: The corners of this space should include lazy Susans or pull-out drawers so that they aren't wasted space. If you're looking for an open-concept kitchen, this is not the right design for you as it creates a distinct separation from the rest of the house. This type of layout can feel enclosed if there are large cabinets on all three walls.
L-Shape
L-shaped designs are popular for people undergoing kitchen renovations as they can work with your kitchen, no matter what size, and can easily establish a work triangle. L-shaped kitchens are perfect for open-concept living as they offer ample counter space and versatility and can open into another room, providing the ideal layout for entertaining.
Pros: The work triangle can be easily established, and L-shaped layouts work well with contemporary and traditional cabinetry. L-shaped kitchens can be very practical if the appliances are spaced out correctly. L-shaped kitchens can make smaller kitchens seem larger with lighter and neutral color palettes and make bigger kitchens seem warmer with deeper or richer color palettes. Adding a kitchen island to an L-shaped design can also help the room double as a workspace or eating area.
Cons: It can be an awkward space, especially at the corner point, and storage space can also be wasted in this corner. Additionally, this layout will usually only work if the kitchen has two walls that form a perpendicular angle, with one wall twice the length of the other.
Centered around a Kitchen Island
This shape is perfect for creative and adaptive families undergoing a kitchen renovation as kitchen islands work as a multifunctional piece that can be used for meal prep, eating, and even a workstation. Moveable kitchen islands can also help other kitchen layouts change into more functional layouts.
Pros: Adding a kitchen island can be a great return on investment, especially if your island hosts appliances, a sink, or a trash area. It can also provide extra cooking surfaces, prep, and eating areas, and even include a bar or wine fridge. Kitchen islands also act as a social area where decorative lighting and seating can center the kitchen.
Cons: If you have a smaller kitchen, an island might make your space seem more cramped. Additionally, if you are looking for your island to have a solid stone countertop, the size of the stone can limit your options, as some of the slabs aren't that large.
Kitchen Design: Peninsulas
As one side is connected to a wall, the peninsula kitchen can be an alternative to a kitchen island for those with less space and undergoing a kitchen renovation rather than a remodel. The peninsula layout allows for more socialization in the kitchen, allowing room to sit and socialize.
Pros: Peninsulas can zone an open space in a kitchen and can offer a similar traffic pattern to kitchen island layouts but with even more leeway. It can be a great extra space that can be used for a myriad of additions to your kitchen: additional counter, storage, or table space, a coffee or wine bar, a second sink or cooktop, and even a breakfast nook.
Cons: While peninsulas can be a great alternative to the kitchen island, there is less seating space than what an island can offer and can make a room feel more closed off. There can be limited mobility or accessibility with a peninsula layout, as the presence of the peninsula can make it challenging to move around or reach certain areas of the kitchen. In addition, storage in the peninsula, especially items in the back, might be more inaccessible than a standard kitchen layout.
See our article Creating a More Functional Kitchen for more ideas on how to increase your kitchen's functionality.