TMD Inspiration
Trends in Home Automation & Smart Technology
1350 Beverly Road, Suite 115
PMB 143
McLean, VA 22101
Interested in working with us?
Use the contact form to tell us more about your project. Someone will get back to you within 48 business hours.
Creating inspired interiors for discerning clients since 2003. Accepting clients in DC, Virginia, Maryland, and select cities throughout the United States.
Trends in Home Automation & Smart Technology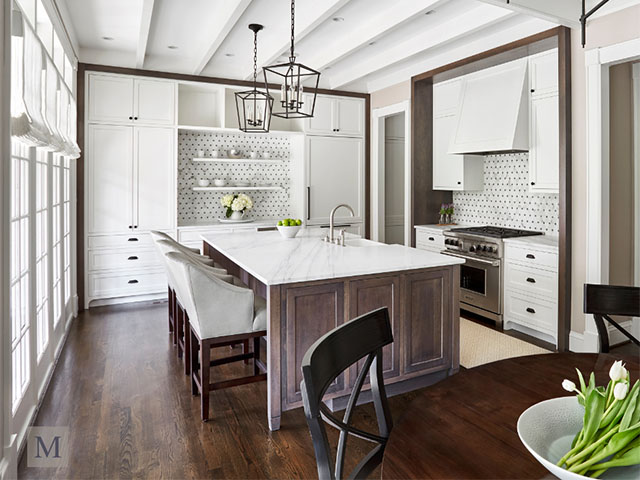 The technology world is becoming smarter, and so can your home. With devices around your home to increase efficiency and comfort, home automation and innovative technology are two of the more popular home trends. Having a smart home is helpful for a myriad of reasons, as smart home appliances can play your favorite song to help you feel better, keep a grocery list of things in your fridge, make a cup of hot water for tea or coffee, and even more. The customization of comfort is what is so alluring about smart technology, but it is important to keep in mind the data privacy risks as well—choosing smart home devices that allow you to opt in or out of data collection. Keep reading for 2023 trends in smart homes.
Smart Lighting
Homes equipped with smart light bulbs can be helpful when setting schedules so you don't have to worry about heading downstairs in the middle of the night to turn off your kitchen light as everything is timed and remote. Smart lighting can be especially beneficial when creating aesthetics around your home, such as changing the color temperature of lightbulbs, the hue, or even dimming the bulb to adjust the brightness. And with most smart technology, you can control your home's lights through voice activation as well.
Smart Thermostat
Smart thermostats can also be set on timers, either throughout the day or the year and can be customized to your specific needs, which can be helpful for energy efficiency. According to the US Environmental Protection Agency, utilizing a smart thermostat can potentially save you around eight percent of spending on heating and cooling. Also, you might qualify for an efficiency rebate, depending on where you live.
Smart Locks
Some of the best smart home devices are ones that increase security. Smart home technology such as smart locks can save so much worrying and help in an emergency. You can check to ensure your home is locked from anywhere while also being able to unlock the door if you need to let someone in, such as a babysitter or a spontaneous visitor. However, make sure to avoid designs that look too much like a smart lock to disincentivize break-in attempts.
Smart Irrigation System
While this smart home device might be more niche, it can be incredibly helpful and eco-friendly in your backyard garden or outdoor areas. Installing smart home devices to help irrigate your outdoor spaces that automate the watering or can detect if it begins to rain can make such a difference in creating the perfect lush green space.
Communication Among Tech
Now with all the new technologies becoming available, it is becoming increasingly important to integrate them all with each other so that you don't have multiple devices separately running alongside each other with no way to communicate. Using a channel such as Matter 1.0 can help to sync all of your devices together.
If you are thinking about designing a smart home, please don't hesitate to reach out.