TMD Inspiration
Tips to Prepare Your Home to Sell
1350 Beverly Road, Suite 115
PMB 143
McLean, VA 22101
Interested in working with us?
Use the contact form to tell us more about your project. Someone will get back to you within 48 business hours.
Creating inspired interiors for discerning clients since 2003. Accepting clients in DC, Virginia, Maryland, and select cities throughout the United States.
Tips to Prepare Your Home to Sell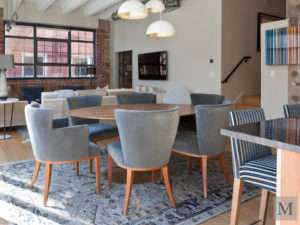 It seems that the shortage of homes for sale never eases in the DC metro area. Home prices are forecasted to continue rising in 2020, but sales could fall. According to a recent survey, home sales in the DC region are expected to fall 1.5 percent in 2020 (from 2019 levels). We can also expect to see prices rise as much as 2.6 percent next year. Given this tight housing market, how can you prepare your home for a successful and lucrative, sale? Here are some tips:
Embrace Neutral Wall Colors. By repainting the rooms in your home a neutral paint color, you allow buyers to focus on the space within each room. However, choosing the right neutral paint color can often feel like searching for a needle in a haystack. Read my recent article for hints and suggestions to choose the perfect neutral.
Keep it Simple. Buyers want to be able to envision themselves living in your home. For this reason, remove overly personal items and keep décor simple. All furniture should fit the scale of room – oversized pieces can make the space feel smaller than it really is. Finally, help buyers picture themselves relaxing in shared living space by grouping your furniture into arrangements that inspire conversation with family and friends.
Let there be Light. Create an inviting atmosphere with lighting – add floor or table lamps and "uncover" all windows and French/slider doors. See my Choosing and Installing the Perfect Lighting in Your Home for more tips and suggestions.
Welcome Nature Inside. A beautiful arrangement of fresh flowers can help draw attention to features of your home that you would like buyers to notice or a large potted plant can help fill an empty corner.
Clean & Organized. Don't underestimate the importance of organized spaces. By investing in boxes, dividers, or other storage solutions, your household items will look more organized and your space more livable. This is especially true in closets. Remember, storage space is a huge selling point of a home.
Give Each Room a Purpose. A spare, unused room will not help to sell your home. Pick a use for that room (an office, guest room, or craft space) and stage the space for a specific purpose.
Visit Your Home. Do a quick run-through of your home as though you are seeing it for the first time. Tighten loose doorknobs, fix the leaky faucet, paint over any scuff marks, and tweak anything that interrupts the flow of your home.