TMD Inspiration
The Front Porch: An Extension of Your Home
1350 Beverly Road, Suite 115
PMB 143
McLean, VA 22101
Interested in working with us?
Use the contact form to tell us more about your project. Someone will get back to you within 48 business hours.
Creating inspired interiors for discerning clients since 2003. Accepting clients in DC, Virginia, Maryland, and select cities throughout the United States.
The Front Porch: An Extension of Your Home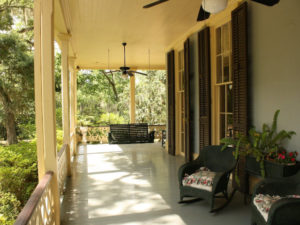 "There is perhaps no architectural feature that conveys a sense of home, warmth, and community like the front porch," says writer Adrienne Gaffney in a Wall Street Journal article. This is especially true as we look forward to enjoying warmer weather and longer days in the DC metro area. In this article, we offer some tips on things to consider when decorating the entryway into your home.
Create a Focal Point. You never get a second chance to make a first impression – and your front door may say more about you and your home than you ever imagined. Want to strike up a conversation with neighbors? Go with a bright color that contrasts with the exterior of your home. Playing it safe – or considering putting your home on the market? Studies show that black or dark grey doors add the maximum value to your home.
Look to Nature. No matter the season, take your cues from Mother Nature. Stick with a limited, neutral color palette for the big items, but add a splash of unexpected color with a statement piece or two.  Toss pillows are a great example of bringing color into play.
Let the Light Shine In. As with the interior of your home, lighting is key. Whether using a couple of strands of white lights overhead or large lanterns sitting on the floorboards, the appropriate lighting on your porch looks festive and is a welcoming sight to arriving guests.
Add Warmth. Do you enjoy sitting outside in the cool, crisp air? Snuggle up on your front porch with cozy elements like an outdoor rug, blankets, and pillows. When choosing materials, we highly recommend using Perennial Fabrics. They make a wide selection of durable, easy-to-clean, solution-dyed acrylic fabrics in a variety of colors, textures, and patterns.
Reflect Your Personality. Make sure your personality shines through. For example, those who enjoy the water may opt for a crisp coastal vibe of all-weather wicker seating in creamy white with blue cushions, a stripe or lattice patterned outdoor rug, and navy ceramic planters.
Don't Forget the Details. Simple things such as making sure your house number matches your mailbox and your hardware is shiny and new will do wonders to the aesthetic of your porch and home.
Create Privacy. Use hanging baskets of flowers or cascading plants (staggered at different heights) to create a living privacy screen.
Would you like more advice on how to decorate and enjoy the outdoor living spaces around your home? Enjoy my article Outdoor Living: The Best Bang for Your Buck.