TMD Inspiration
The Ceiling: Your Fifth Wall
1350 Beverly Road, Suite 115
PMB 143
McLean, VA 22101
Interested in working with us?
Use the contact form to tell us more about your project. Someone will get back to you within 48 business hours.
Creating inspired interiors for discerning clients since 2003. Accepting clients in DC, Virginia, Maryland, and select cities throughout the United States.
The Ceiling: Your Fifth Wall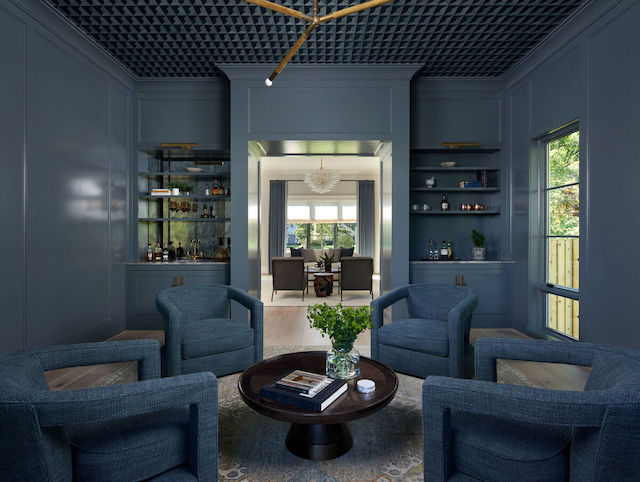 When it comes to decorating their home, many homeowners are missing an opportunity to make a bold statement. An essential part of any room, the ceiling is arguably just as important as its four better-known counterparts (i.e. the walls). From simple to intricate details, design features on the ceiling can make a huge impact and elevate a home from average to luxurious. Crown molding or ceiling trim can add interest to a room while paint, plaster finishes, grasscloth, and wallpaper are a few more design elements that can be used to move the eye upward. Here are some ways to use your ceiling to add dimension and personalization to any space—large or small.
Specialty Ceilings. Trey ceilings may be the most classical design element you can add. Coffered ceilings can add elegance to any room. And vaulted ceilings can make any room feel grander and taller.
Add Wood. The warmth of wood compliments any home style and adds character and style to any room. Want to take the look one step further? Consider adding wood to the entire ceiling to create contrast or add texture to the rest of the space.
Use paint. Have a really bold paint color on the walls and don't want it to contrast with the ceiling? Add a lighter paint tone to the ceiling to add interest. In contrast, if you want something more dramatic, paint the ceiling a dark color and the walls white.
Introduce pattern. Wallpaper and grasscloth are especially useful in rooms where the walls are covered with cabinetry—such as in a kitchen or home office. A variety of patterns (from bold botanicals to modern geometrics) are available. (Please see my article Wallpaper: The New Paint for more information about adding wallpaper to any space in your home.)
No matter the material you choose to use, here are some things to keep in mind when enhancing your fifth wall:
Choose something you really like and can live with for several years. Chances are you won't get around to changing the look for many years to come.
If you are using paint, choose a flat or matte paint that doesn't reflect light. and show imperfections that may appear on the ceiling. In general, glossy paints draw attention to any type of surface defect.
Small spaces, like a powder room or closet, are the perfect places to try out a bold look on the ceiling first. You can take bigger risks in smaller rooms since the look won't be too overwhelming.
When decorating your home, don't forget to look up! Adding architectural features, paint, or wallpaper can not only add charm and character to your home but also value.
Please contact me today if you would like to discuss your next project!