TMD Inspiration
Sustainable Design: Trends to Watch
1350 Beverly Road, Suite 115
PMB 143
McLean, VA 22101
Interested in working with us?
Use the contact form to tell us more about your project. Someone will get back to you within 48 business hours.
Creating inspired interiors for discerning clients since 2003. Accepting clients in DC, Virginia, Maryland, and select cities throughout the United States.
Sustainable Design: Trends to Watch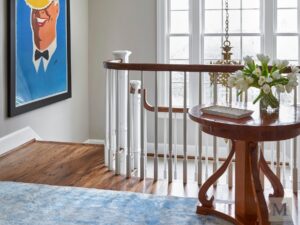 Over the past decade, with climate change becoming more noticeable, we have seen designers and architects shift their focus to environmental sustainability by incorporating eco-friendly elements into their designs. This approach does not only protect the environment and save on energy costs, but it also adds more value for the homeowner while protecting the local environment. Building an environmentally friendly building is now just as equally as important, if not more. In this article, I will explore five trends in sustainability that you may want to incorporate into an upcoming project.
Going Green. In an effort to conserve energy, an increasing number of designers and architects are focusing on creating sustainable homes. Allocating space for solar panels, incorporating in-floor radiant heating, and planning for energy-efficient technology have become essential elements of design. In addition, energy-efficient materials such as dual-pane windows, interior insulation, and green lighting are being widely used.
Healthy Building Materials. Over the last few years, there has been an increasing demand for no or low volatile organic compound paints, stains, and polyurethanes. Aside from being healthier, these materials are also environmentally friendly and help to reduce the structure's carbon footprint. See my recent article Creating a Healthy Home to learn more about the use of no or low VOC materials.
Managing Stormwater. Designers and architects cannot control the weather, but they can do something to make its effect less impactful on our homes. According to the United States Environmental Protection Agency (EPA), residents should be using stormwater management to reduce runoff of rainwater into streets, lawns, and other sites. Using porous paving materials or landscape designs with filtration or water flow will help prevent damage from flooding and provide an added bonus—homeowners can reuse the rainwater collected to water plants.
A Sustainable Outdoors. Landscape designers recommend using native plants in an effort to preserve nature while enhancing the experience of the space at the same time. Be mindful of the vegetation you plant around your home. Planting trees and other plants not native to the area is not a sustainable practice and requires unnecessary maintenance, which will make it difficult to thrive.
Incorporating Biophilic Design. Today, many designers and homeowners are looking for a way to promote well-being, health, and emotional comfort. Biophilic design is based on a set of principles that aim to improve our connection with nature as a way to reduce stress. A great example of this is indoor gardening; studies show that plants can act as leafy air filters to help clean the air we breathe in our homes. Most herbs will grow easily indoors, but when it comes to vegetables, some may do better outdoors. See my article Ways to Refresh Your Home for examples of vegetables to grow indoors.
Please contact us today to talk about all of the options available to you if you are looking to build a home with sustainability in mind.