TMD Inspiration
Roller Shades or Roman Shades?
1350 Beverly Road, Suite 115
PMB 143
McLean, VA 22101
Interested in working with us?
Use the contact form to tell us more about your project. Someone will get back to you within 48 business hours.
Creating inspired interiors for discerning clients since 2003. Accepting clients in DC, Virginia, Maryland, and select cities throughout the United States.
Roller Shades or Roman Shades?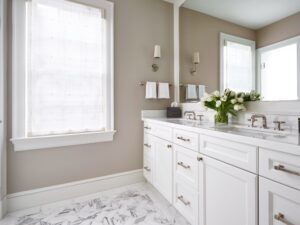 Often considered an after-thought in the design process, window treatments are instead an essential building-block to any design. Just like any other design element in your home, you should first ask yourself what you would like the window treatment to accomplish. Are you using shades in a bedroom or living area? Do you want to block out all sunlight or just filter it? What does the window treatment look like from outside the home as well as inside?
Perhaps most important of all, window treatments play an important role in controlling the amount of UV rays and sunlight that enters your home thus impacting the condition of floors, walls, and furniture. How much—and at what time of day—natural light a particular room receives often dictates how that space is used. And much of that light depends on the size and number of windows as well as the window coverings chosen. In this article, we will take a look at using roller versus Roman shades in your home.
Roller Shades
Roller shades are a chic and simple solution when you want to showcase your views and control the amount of sunlight the space receives. Available in a wide variety of colors, patterns, and materials, roller shades allow you to personalize each space.
Design Consideration: An old favorite, a standard roller shade that simply rolls up and down is easy and economical while still chic and fun. Consider room darkening blackout roller shades in bedrooms and water-resistant and opaque window shades in bathrooms.
Roman Shades
Looking for a tailored, classic look? Roman shades are perhaps the most versatile of window treatments. Featuring cascading folds, these shades come in a variety of styles, colors, and fabrics. Soft fabrics that are sheer are my favorite for a clean look that can be customized to any style space.
Design Consideration: At home in any room, Roman shades offer a less-formal alternative to drapery that is less costly. The present an elegant silhouette of soft horizontal folds down the window as it is lowered.
Better Together
When it comes to selecting a window treatment for a room sometimes it is best to combine treatments for the best results. Throughout a home I will use roman shades with a sheer lining, this finishes off the windows and creates privacy while still allowing light in. In bedrooms use a blackout roller shade behind the roman to block out the light while sleeping.
These are just two of the many choices our clients have when choosing window treatments. For more information about other options, such as motorized shades and draperies, please see my article A Window Treatment for Any Room. Contact us today if you have any questions or if you would like to discuss other options.