TMD Inspiration
Preparing Your Home for Summer
1350 Beverly Road, Suite 115
PMB 143
McLean, VA 22101
Interested in working with us?
Use the contact form to tell us more about your project. Someone will get back to you within 48 business hours.
Creating inspired interiors for discerning clients since 2003. Accepting clients in DC, Virginia, Maryland, and select cities throughout the United States.
Preparing Your Home for Summer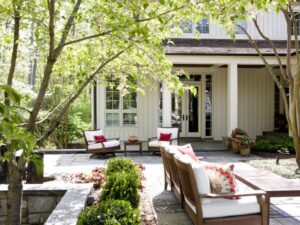 Each year, I am filled with new hope and excitement for what the summer season will bring. Summer is a time to refresh your home—and move outside to enjoy the long, warm days. While some may like to enjoy the new season through the windows of their air-conditioned house, I believe that backyard is made for enjoying the summer. In this article, I will explore some design concepts to help alleviate the heat and help you get the most out of your outdoor living space this summer.
Water, Water Everywhere
We cannot control the weather, but we can do some improvements to make its effect less impactful on our homes. Here are some ways to use storm water management to reduce the runoff of rainwater into streets, lawns, and other sites.
Landscaping: Use porous paving materials or landscape designs with filtration or water flow maintenance. This will help prevent damage from flooding and provide an added bonus—homeowners can reuse the rainwater collected to water plants.
Water Features: Install a water-recycling pavement system that incorporates a water feature. The paver system can collect and recycle rainwater while releasing mist into the air that will help alleviate some of the oppressive heat.
Bug control: In order to fight the ongoing battle with mother nature, keep outdoor living areas clean and free from standing water. Add birdhouses to your garden – birds are a natural predator of many bugs and having them around is a form of natural bug control.
Create a Backyard Retreat
As you contemplate ways to improve your outdoor area, think about projects that can both extend the hours you spend outside and make the time you spend there more relaxing, such as:
Temperature Control: A strategically placed ceiling fan, awning, or umbrella can help to regulate the temperature and add comfort to your outdoor living space. Pergolas and arbors are excellent ways to add shade while also keeping outdoor spaces shielded from top-floor windows as well.
Grilling: Do you find yourself going in and out of the house while you are preparing a meal on the grill? Make meal prep much easier by installing an outdoor kitchen, complete with a prep area, outdoor sink, and small refrigerator for the essentials.
Entertaining: Design your outdoor living space just like your indoor space —with plenty of seating and conversation areas for guests. Keep furniture on the lighter side so that you can quickly and easily move it around to accommodate different-size crowds. And don't forget the music! Add some well-placed speakers to help to bring the sound of your favorite music outside.
Add Curb Appeal
Late spring and early summer is the perfect time of year to add curb appeal to your home. Here are some ways to make your home look every bit as fresh and attractive in the summer as it does at other times of the year.
Lighting: One of the easiest and most effective ways to add curb appeal to your home is by installing outdoor lighting. Consider adding zero-energy solar-powered fixtures for a gentle ambiance to light up your evenings. Add overhead fairy lights to a backyard patio to create a bit of magic.
Welcome Home: Are you looking for a simple and inexpensive way to refresh your home? Consider painting your front door! Watch my recent interview on NBC's 4 Your
Planting: When it comes to pants, not all equal. There is a variety of native flora that will not only be suitable for your space but also beneficial to the environment. Plant, shrubs, and certain trees have elements that can benefit pollinators (birds, bees, butterflies) and wildlife—especially if you choose native plants. I always recommend speaking with a professional landscaper to make the most out of your garden
Are you looking for more ways to care for your home? Please visit the Home Tips section of my website.