TMD Inspiration
Tips to Make Your Living Spaces Feel Larger
1350 Beverly Road, Suite 115
PMB 143
McLean, VA 22101
Interested in working with us?
Use the contact form to tell us more about your project. Someone will get back to you within 48 business hours.
Creating inspired interiors for discerning clients since 2003. Accepting clients in DC, Virginia, Maryland, and select cities throughout the United States.
Tips to Make Your Living Spaces Feel Larger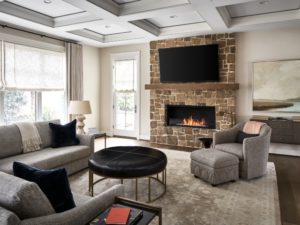 For so many of us, all of our daily activities – work, school, socializing, and relaxing – are taking part in our homes these days. If you are like me, the space in your home is beginning to feel smaller and more constricting. However, with these simple tips, you can begin to make your living spaces feel larger.
Open Up
When structural changes – such as removing a wall or opening a ceiling – are not an immediate option, a simple way to open up space between living areas is to remove doors to each connected space. This will not only open up the sightlines but also allow more light within the area as well as freedom of movement. Also, be mindful of leaving plenty of space between pieces of furniture and between furniture and the walls. To achieve this, you may need to remove one or two pieces of existing furniture from the room.
Paint
Something as simple as the color on your walls can influence mood, thoughts, and outlook. Consider using the same white or pale hue on the walls as well as the trim, painting the trim a different color can make the space feel cut off. Keep all spaces the same color to make rooms flow together and not feel chopped up. Please see my article TMD's Guide to Neutral Paint Colors for specific paint and color recommendations.
Focus
Choose one main focal point to draw the eye and not make the space feel busy and overwhelming. A large painting is always a great focus for a room and can add so much personality. Avoid doing a gallery wall or lots of smaller items that can break up the space and make it feel smaller. Wallpaper is another great focal point to a room, this can add texture, pattern, and dimension in any space.
Look Down
Looking to refresh or transform your space? There is no easier way than to add a new area rug. Area rugs add color and character to your home. They help to create and define spaces in your living areas. By choosing a rug that extends beyond your furniture, a rug can also make your space look larger. For more information about choosing the perfect rug for your living space, see my article A Rug for Every Room.
Double Duty
Choose furniture and accessories that are multifunctional. For example, a simple console table can be used as a desk in a makeshift work-from-home office. A bench with hidden storage can be used for seating in the breakfast nook.
Transparency
In addition to the multifunctional pieces mentioned above, look for furniture that is made from transparent materials, such as a glass coffee table or acrylic chairs. While these pieces may take up valuable floorspace, their see-through design doesn't clutter up the visual space. Or look to furniture with more open space and legs so it isn't so heavy to the floor. This prevents the space from feeling cluttered.
Light & Airy
Simply put, a sunlit room feels more open. Natural light can boost mood and productivity. It can also help eliminate shadows created by artificial light which, in turn, can make an enclosed area feel smaller. Options such as floor to ceiling drapes allow light to flood into your living space and can make it feel much larger. Please see my article A Window Treatment for Any Room for more possibilities.