TMD Inspiration
Making an Old House New Again
1350 Beverly Road, Suite 115
PMB 143
McLean, VA 22101
Interested in working with us?
Use the contact form to tell us more about your project. Someone will get back to you within 48 business hours.
Creating inspired interiors for discerning clients since 2003. Accepting clients in DC, Virginia, Maryland, and select cities throughout the United States.
Making an Old House New Again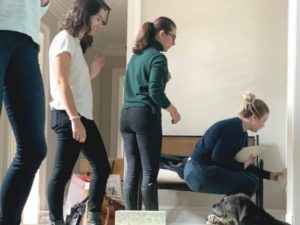 Whether you are moving into a house that's slightly outdated or practically historic, there are steps you can take to make your home new again. Some homes need technical improvements in order to be functional, while others could benefit from a newer style.
Since furniture and décor can be swapped out for newer designs, the focus of reviving an older house often falls on its more permanent features, such as flooring or appliances. Here are some ideas that can be implemented regardless of your house's age:
Update Appliances and Systems. In an old house, appliances may need to be updated for functionality as much as design; prioritize which features could use an update immediately and which can be saved for a later time. Knowing the state of the systems in your house—electrical, heating, plumbing, and air—will give you peace of mind so you can focus on more pressing concerns when moving.
Re-Stain Floors. When looking for ways to modernizing your home, flooring should not be ignored. If your home has hardwood floors, re-finishing them prior to moving in will allow you to enjoy your new home without moving furniture twice. Thanks to a wide range of stains, it's easy to customize your flooring to suit the style of your home.
Repaint. Paint has a huge impact on the general atmosphere of a home—dated walls can add years to a home's feel, no matter the decor. A fresh color on the walls can improve any room while harmonizing with the character of the home's occupants. Focus on a contemporary palette of colors to create a cohesive backdrop to your space. See my recent article TMD's Guide to Neutral Paint Colors for paint color suggestions.
Replace Fixtures. The smallest details can make the design of a home feel unified rather than disconnected. Out-of-date hardware in the kitchen and bathrooms can easily be swapped out with more modern alternatives. Trade out old light fixtures with newer models for a quick but impactful update. Even the frequently overlooked features such as outlets and light switches can be changed to make a space more polished.
We understand that breathing new life into an older house is a commitment on the owner's part. We are always happy to offer suggestions throughout the design process to bring new life into old spaces.