TMD Inspiration
Interior Design Trends We Love for 2021
1350 Beverly Road, Suite 115
PMB 143
McLean, VA 22101
Interested in working with us?
Use the contact form to tell us more about your project. Someone will get back to you within 48 business hours.
Creating inspired interiors for discerning clients since 2003. Accepting clients in DC, Virginia, Maryland, and select cities throughout the United States.
Interior Design Trends We Love for 2021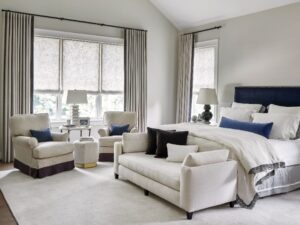 Brighter colors, natural-looking materials, and flexible décor. These are just several of the design trends that we are anticipating in the new year.
Brighter Design
One of my favorite components of design is the selection and use of color, and particularly paint color. Paint is the biggest bang for your buck in terms of home décor. It can influence mood, thoughts, and outlook. This year's color palate from Benjamin Moore consists of twelve hues that radiate warmth and wellbeing. From Aegean Teal to Rosy Peach, these colors are designed to make your home feel like home.
Wallpaper: The New Paint
If you are not ready to commit to a bolder wall color, consider using wallpaper. Decorating with wallpaper is a versatile way to play with color, pattern, and texture. With traditional wallpaper, there are endless options. Please see my recent article for ways you can incorporate wallpaper into your home design.
Cozy Style
Grandmillennial style is all about celebrating pattern, texture, and color – and a lot of it. It blends elements of classic design (such as chinoiserie, natural fiber rugs, and topiaries, and Grecian details) with clean lines and modern art. Look for furniture with European-inspired detailing, such as sloping arms and metal legs, for a timeless look.
Lighter Wood
From flooring to cabinetry, furniture to accent pieces, we are seeing lighter woods—such as maple, oak, birch, ash, and bamboo— being used everywhere! This trend has been slowly building popularity in recent years, and we expect to see a lot more of it in 2021.
Cutting Corners
Many homeowners and designers are leaning toward softer, rounder furniture for family and living rooms. These styles are considered more comfortable and "homey" than their more linear cousins. Outdoor furniture is also going rounder, as evidenced by the Isla outdoor collection by Sebastian Herkner, which was showcased at the 2020 Virtual Maison & Objet and Paris Design Week.
Flexible Furniture
Furniture will continue to be serving double duty in the upcoming year. Bar carts are being repurposed as movable desks and coffee tables are doubling as a storage solution. With more of us spending time at home, we are looking for our furnishings to be more functional and flexible.
Rustic Ceramics
Colorful, handmade tiles may replace the smooth and uniform look of a porcelain or glass subway tile black splash in the kitchen. Beautiful patterns and colors may also be used to create accent areas.
Embrace Nature
As consumers continue to focus on sustainability and the environmental impact of home design, natural materials are becoming more accessible. Two of these materials are rattan (made from woven palm stems) and wicker (typically made of woven willow twigs). Both styles are lightweight and can work indoors and outdoors. In addition, organic cotton, recycled polyester, and low-impact linen are popular choices for textiles.
Less is More
Keep clutter to a minimum. Choose every single detail in your home carefully and purposefully!
Lastly, don't hesitate to call us if you have design questions or are ready to make home renovations. We would be happy to assist!