TMD Inspiration
How Long Will It Take to Build My Dream Home?
1350 Beverly Road, Suite 115
PMB 143
McLean, VA 22101
Interested in working with us?
Use the contact form to tell us more about your project. Someone will get back to you within 48 business hours.
Creating inspired interiors for discerning clients since 2003. Accepting clients in DC, Virginia, Maryland, and select cities throughout the United States.
How Long Will It Take to Build My Dream Home?
Barnes Vanze (Architect), Horizon Builders (Builder),
and Lila Fendrick (Landscape Design).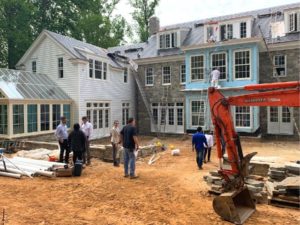 When I begin the process of helping a client build their dream home, the question I am most often asked is "How long will it take to build my new home?" As you can imagine, this is a difficult question to answer. Each project is so unique and customized. In this article, I provide a general outline of what to expect when undertaking a construction project of this magnitude.
Here is a brief summary of the process:
Designing. One of the most important stages in the process. This is where your vision can come to life with the help architects and interior designers. I always recommend bringing in an interior designer at this stage because they bring a different eye and can help make each space function exactly how you need.
Bidding. Once everything has been designed you will send the plans out for bid. This is when contractors will give you an estimate and you can decide who you would like to build your home. Check out my article on choosing the right contractor for more information.
Groundbreaking, Site Excavation, and Footings. This includes layout of the home on your property, preparation to level the site, ensure proper drainage, clear out debris, rocks, and trees.
Foundation. The foundation is the backbone of the home. It is crucial that it stay dry and free of cracks.
Framing. This is the skeleton of your house. The exterior walls are the first to be framed, followed by the floors and roof rafters.
Mechanicals. You can expect to see wires, pipes, sewer lines, and vents running through the floor, walls, and ceilings as water heaters and the HVAC system are installed.
Insulation and Drywall. Once the insulation is installed within the walls, the interior walls and ceilings are covered with drywall or plasterboard, then sanded and primed.
Flooring, Trim, and Paint. At this time, interior doors, cabinets, mouldings, built-in shelves, and other pieces of carpentry are fitted into place. Hard surface flooring (such as tile and hardwoods) are laid. After the trim is put up, two coats of paint are applied to the drywall.
Exterior Façade. Exterior finishes such as brick, stucco, stone, and siding are installed.
Fixtures, Appliances, and Interior Finish. It is now time for the installation of light fixtures, plugs, faucets, bathtubs, toilets, sinks, shower units, cabinets, countertops, and appliances. If you decide to have carpeting in the home, this is the time it will be installed.
Driveways, Walkways, and Doors. In order to prevent damage, it is recommended that homeowners wait until all the interior finishes and trim work are completed before installing driveways, walkways, and exterior doors.
Interior Clean Up. This is the time for a thorough clean-up to get ready for the day that you move into your dream home.
Landscape Work. It is important to work with the landscapers to design the yard you want. You can always add flowers, gardens, and trees at a later time, but now is a good time to get the foundational landscape pieces completed.
Considering the process outlined above and potential setbacks (such as weather and supply delays), it typically takes 18 to 24 months to complete a custom-built home. Please see my previous article Budgeting Your Time to Complete a Design Project for further information about the home building and design process.