TMD Inspiration
Home Design Features that Home Buyers are Looking For
1350 Beverly Road, Suite 115
PMB 143
McLean, VA 22101
Interested in working with us?
Use the contact form to tell us more about your project. Someone will get back to you within 48 business hours.
Creating inspired interiors for discerning clients since 2003. Accepting clients in DC, Virginia, Maryland, and select cities throughout the United States.
Home Design Features that Home Buyers are Looking For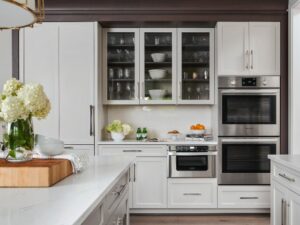 It's safe to say 2020 is not what any of us expected it to be — and it has certainly influenced what home buyers are seeking in this unusual moment. Features that were once highly sought after, such as an open plan, may now have a negative impact on the value of a property. If you are looking to update or renovate your home in preparation to sell — or just to stay on top of what's current — here are some of the exciting new design trends sought after by buyers in 2020 (and most likely into 2021).
Build an outdoor oasis.
According to a recent report, six out of fifteen features sought after by buyers are external. Adding a paved patio with room to breathe or a stunningly landscaped garden are both great ways to build a private sanctuary on your property. And remember — your outdoor living space is an investment. Don't be afraid to hire a professional landscaper and/or hardscaper to design the perfect outdoor living environment for you and your family to enjoy for years to come.
An outdoor space can also easily be enhanced with an addition of solar powered outdoor lights. Decorative garden lights add a touch of personality and style to a patio, deck, or lawn. These outdoor-oriented updates will show a buyer that they can entertain and enjoy their home beyond the interior.
Practicality meets style.
As mentioned in my previous article, there is a significant gravitation away from the previously trendy open floor plan. Now that people are working from home, there is a new need for separate spaces, privacy, and noise reduction. People want quiet home offices, spaces for children to attend school virtually, and places where they can unwind at the end of the day. Some are utilizing their furniture to establish "new" spaces within their open floor plan; others are completely renovating to create brand new rooms.
There are practical updates that require less remodeling and are equally as desirable to buyers. We're cooking more, so the popularity of a kitchen island with high-quality work surfaces is on the rise. Downstairs bathrooms, built-in storage space, and windows with UPVC double glazing are just a few examples of practical improvements you can make to your home that can make all the difference to a prospective buyer.
Home wellness.
There is real momentum toward renovations targeted at home wellness. There is growing interest among homeowners to seek out non-toxic building materials for their cabinetry, paint, or flooring as well as water and air purification systems. Also popular are in-home features are touchless faucets that reduce the spread of germs (especially right now!) and circadian lighting to improve sleep. This home wellness trend also includes cozy updates like under floor heating for those chilly evenings.
Don't hesitate to contact me if you are planning to move and would like guidance in evaluating potential new homes or are interested in renovating your existing home to be the home of your dreams. We are here to help!