TMD Inspiration
How to Fix Common Interior Design "Mistakes"
1350 Beverly Road, Suite 115
PMB 143
McLean, VA 22101
Interested in working with us?
Use the contact form to tell us more about your project. Someone will get back to you within 48 business hours.
Creating inspired interiors for discerning clients since 2003. Accepting clients in DC, Virginia, Maryland, and select cities throughout the United States.
How to Fix Common Interior Design "Mistakes"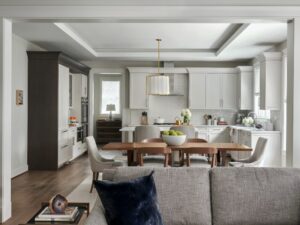 There are so many elements that go into designing the perfect room. From furniture selection to positioning of wall art, there are many small decisions that go into creating a cohesive space. Even the slightest "mistake" can throw off the entire room. In this article, we discuss several common issues and easy ways to fix them.
Problem: When you look into your living room, it looks blah. It feels like things aren't cohesive and feels unfinished.
Fix: Look at the space as a whole instead of individual elements than can make it feel piecemeal. Find pieces that complement each other but aren't exactly the same. Things that are too matchy-matchy doesn't add any visual interest to a space. Fill everything out with lamps, pillows, and accessories to make it feel complete.
Problem: Your home office seems dark and overcrowded, even though there is only a desk and bookcase in the room.
Fix: When furnishing smaller spaces, choose pieces that are streamlined in terms of shape (not necessarily smaller in scale). Consider the depth of the chair or couch. Does it fit with the proportions of your room? Also, lighter fabrics and finishes can brighten up the space and make it feel larger.
Problem: In order to have enough seating for all, the family room furniture is pushed up against all four walls.
Fix: Many people try to make a room look bigger by pushing furniture up against the wall. This can actually make the room feel like a tighter squeeze. Furniture generally looks much better pulled away from the edges of a room.
Problem: Your main living space is beginning to look a bit too "loved;" it needs a quick and easy refresh.
Fix: There is no easier way to transform a room than by adding an area rug. They add color and character to your home. The size of the area rug is very important— too small, and the rug appears to be unanchored in the room. I always like to have all the furniture sitting on the rug, so the space feels filled, and no furniture is uneven. If your space is an unusual shape you can have rugs cut to follow the shape of the space.
Problem: The lighting in your bedroom doesn't work well.
Fix: Try layering different types of lighting including ambient (overall, general lighting), task (designed for a specific function such as reading), and accent (used to highlight or decorate a space).
Problem: Your basement recreation room feels cavernous and unwelcoming.
Fix: If your room is large, consider creating several groupings of furniture. For example, comfortable arm chairs placed opposite each other will allow family member/guests to comfortably engage in conversation. Add a comfortable settee in the corner (with a side table) in the same room for a cozy sitting area. And don't forget comfortable couches for game and movie viewing!
Problem: Your cherished artwork goes unnoticed.
Fix: In order to have maximum impact, position artwork in an unexpected, subtle location. Also, make sure that you avoid a very common problem of hanging artwork too high—pieces should be hung at eye-level or a bit lower. Still not sure it is positioned correctly? Give it a trial run (with a removable hook) before affixing it permanently.
Like any other undertaking, interior design often involves a bit of trial and error. But don't be discouraged—there is always a fix for a problem.