TMD Inspiration
Designing the Perfect Home Office
1350 Beverly Road, Suite 115
PMB 143
McLean, VA 22101
Interested in working with us?
Use the contact form to tell us more about your project. Someone will get back to you within 48 business hours.
Creating inspired interiors for discerning clients since 2003. Accepting clients in DC, Virginia, Maryland, and select cities throughout the United States.
Designing the Perfect Home Office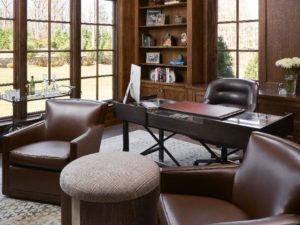 The latest research from the University of Chicago's Booth School of Business has found that more than one-third of all jobs in the US – 37 percent – can be done remotely. Many large US companies, such as Facebook and Capitol One, have made recent announcements that they are extending their work from home policies for the foreseeable future. As remote working becomes the new normal throughout the DC metro region and the country as a whole, many of us are creating and/or redesigning our home offices. As we all seek to set up the perfect space, here are some general things to consider:
The importance of natural light. According to a study cited by Harvard Business Review, "access to natural light and views of the outdoors are the number one attribute of the workplace" according to U.S. employees. Often, when creating a home office, people tend to put their desk against the wall to tuck it "out of the way." However, what they have inadvertently done is to recreate a dark, corporate cubicle-type feel.
Designer's Tip: If possible, move your desk close to a window but place it parallel to the window pane. This helps reduce sun glare and distraction, but allows you the numerous benefits of natural light and the opportunity to take frequent breaks to look out the window.
Home office furniture should "fit" your body. Nothing can deter from a productive day like a backache or eye strain. Make sure that your chair and desk height are proportionate to your body type – for example, if you are a shorter adult, a chair that is too high and non-adjustable may have your feet dangling like a child.  If you are uncomfortable sitting for extended periods of time, consider an adjustable or standing desk. To avoid eye dryness and/or eye strain, the top of your computer screen should be at eye level or a little below.
Designer's Tip: Comfortable office furniture should look great, but feel like you can sit in it for hours on end. Splurge on the important pieces that will increase your comfort and productivity.
Create a calm sanctuary for work. Don't underestimate the important of your at-home-office aesthetics. For instance, colors can impact the mood of your home office environment. Red tends to make people feel more passionate about their work while yellow tends to make people feel happy. While modern offices tend to have a lot of cords, minimize the "mess" with a power strip behind your desk and plug everything into that.
Designer's Tip: Know what makes you happy and productive – and choose colors and accessories based on your personal aesthetic. Be mindful that your choices are not adding extra stress or worry. Remember – you don't need lots of elaborate furnishings to make a productive environment!
Home offices are on everyone's mind these days – and will be for the foreseeable future. While not everyone has a designated home office, finding a spot in your home where you feel most productive is so important. Please follow us on Instagram, as we occasionally share images and information about some of our favorite home office designs. As always, please feel free to contact us about a home office design or redesign.