TMD Inspiration
Designer's Perspective: Moving Tips
1350 Beverly Road, Suite 115
PMB 143
McLean, VA 22101
Interested in working with us?
Use the contact form to tell us more about your project. Someone will get back to you within 48 business hours.
Creating inspired interiors for discerning clients since 2003. Accepting clients in DC, Virginia, Maryland, and select cities throughout the United States.
Designer's Perspective: Moving Tips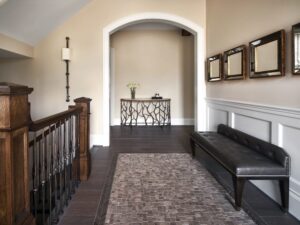 Are you considering a move in the next 6-12 months? Perhaps you have been building a new home or maybe you have decided to downsize. Over the past five years, I have moved several times. I have learned that, despite all the checklists and timelines, moving is stressful and a huge amount of work! I have also learned how to look at moving with a designer's eye. Here are my top three design considerations to help make your new house feel like home.
Lighting
Lighting is one of the most essential elements in a home. Research shows that an adequate amount of light improves mood and energy levels and impacts concentration, appetite, and many other aspects of daily life. To increase natural light throughout your home, consider installing large windows, French doors, and skylights. Design elements—such as mirrors and lighter window treatments—can also bring more natural light into your home.
Artificial lighting plays and equally important role. With the simple flick of a switch, artificial light can be used to create an atmosphere in any room. I recommend layering your lighting: ambient lights to provide general illumination and comfort, task lighting for a specific task, and accent lighting to dress up any room. Please see my article Choosing and Installing the Perfect Lighting in Your Home for specific recommendations on how to use lighting throughout your home.
Room Layout
Whether you are decorating a room from scratch or are using family heirlooms, it is always best to start with a design plan in mind. I like to start by defining the purpose for each space. Ask yourself the following questions:
Is this your primary space for entertaining?
Do you have a large space that serves multiple purposes?
Do you have a need for a specific space, such as a home office or music room?
Are you currently working from home and/or have children learning from home?
Once you have answered these questions (among others as appropriate), you can begin the design process by using rugs, furniture, and scale to create the perfect space. Please see my article Designer Tips for Room Layout for more ideas.
Natural Flow and Balance
How do you move through your home? Have you created an environment that feels balanced and welcoming? Directly related to the room layout, the natural flow of your home takes into consideration how all the rooms and spaces work together. If you are moving into an existing home, you may need to consider removing walls or widening doorways to create a more natural flow.
Consider current design trends when creating your interior spaces. For example, many designers and homeowners are looking for a way to promote well-being, health, and emotional comfort in today's living spaces. Biophilic design is based on a set of principles that aim to improve our connection with nature as a way to reduce stress. To learn more about how to loosely apply these principles both inside and outside of the home, please see my recent article The Long Term Impact of Covid-19 on Home Design.