TMD Inspiration
Design Trend: Mixing Metals
1350 Beverly Road, Suite 115
PMB 143
McLean, VA 22101
Interested in working with us?
Use the contact form to tell us more about your project. Someone will get back to you within 48 business hours.
Creating inspired interiors for discerning clients since 2003. Accepting clients in DC, Virginia, Maryland, and select cities throughout the United States.
Design Trend: Mixing Metals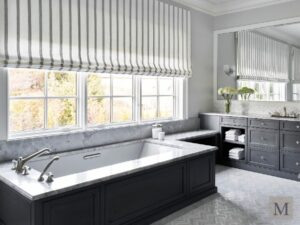 My clients often ask me if it is okay to mix metals. Whether you are mixing chrome, nickel, bronze, or brass, I say go for it! Layering these materials can make an ordinary space feel more luxurious. First, however, there are some basic guidelines to follow when mixing metals.
Pick a dominant metal. When choosing a dominant metal, consider what you want the finished room to look like. For example, polished chrome is an excellent choice for a bright and airy sunroom, while polished brass works well in a kitchen with darker floors or black stainless appliances.
Keep your accent metals to a minimum. While it is okay to mix metals, you don't want to go overboard; too many accent metals can make a room look and feel cluttered. Contrasting finishes work well. For example, polished brass or gold accents work well alongside chrome or silver pieces. Consider choosing one metal to be the architectural accent (to be used on features such as doorknobs and light fixtures) to be used throughout the home to create a sense of uniformity.
Don't forget the finish. Metals come in various finishes such as matte, satin, brushed, polished, or antique. Layering these sheens can make the overall design more attractive.
Keep like metals on the same visual plane. This helps to create a more welcoming and cohesive space. For example, cabinet and door hardware can be polished nickel, while the light fixtures can be a matte brass. These subtle differences can help draw the eye into the space and present a clutter-free feel.
Create a sense of balance and symmetry. Balance and symmetry are the backbone of any successful design project. When mixing metals, use the dominant metal more than the accent metal. For example, consider a matte or hammered finish to provide contrast to an abundance of polished metals.
Once you have chosen the dominant and accent metals and finishes, and considered the placement of metals as well as the balance and symmetry of the design, the fun begins! The key to design in any space is distributing the metals evenly throughout the room. Here is an example of how you can create a stunning space by mixing and matching metals in a bathroom:
The faucets for the sinks, tub, and shower should all be the same metal and finish.
Keep the bath accessories the same metal as the faucets.
Sconces and light fixtures are independent of the rest of the installed hardware; feel free to use a different metal and finish for these features.
Cabinet hardware can match either the faucets or the sconces/lighting fixtures.
If you stick with the above guidelines, you will have a beautiful space with many unique touches. As always, please contact me today if you would like to discuss an upcoming project—I would love to help you create a beautiful space using a variety of metals.