TMD Inspiration
1350 Beverly Road, Suite 115
PMB 143
McLean, VA 22101
Interested in working with us?
Use the contact form to tell us more about your project. Someone will get back to you within 48 business hours.
Creating inspired interiors for discerning clients since 2003. Accepting clients in DC, Virginia, Maryland, and select cities throughout the United States.
Creating a Healthy Home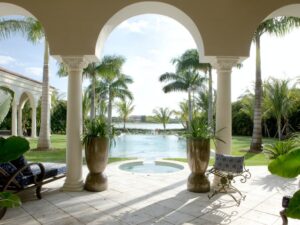 According to a recent US Environmental Protection Agency (EPA) report, the average American spends approximately 90 percent of their time indoors. These indoor environments often have concentrations of pollutants are two to five times higher than typical outdoor concentrations. Poor indoor air quality can cause discomfort (such as sore throats and sinus pressure) as well as impact productivity and mood. So what practices can be undertaken to ensure proper air quality throughout your home, and how they can be implemented in an overall design plan?
A Breath of Fresh Air
Regardless of outdoor air temperature, open your windows from time to time to get a breath of fresh air. Indoor air can become "stale," caused by a build-up of high levels of moisture, odor, dust, and air pollutants. A healthy dose of fresh outdoor air is needed to dilute these indoor pollutants.
Control Moisture
The best way to control dampness and mold indoors is to control the sources of moisture. This may be easier said than done, particularly in the humid DC metro area. The key is to prevent the problem from developing (by using dehumidifiers and exhaust fans) as and fixing problems (such as leaks and drips) when they first arise.
"Green" Cleaning
Oftentimes, common household products work just as well as chemical cleaners without fumes and pollutants. For example, baking soda helps to eliminate odors from your refrigerator and lemons make a wonderfully-perfumed general cleaner when left to infuse in white vinegar for a couple of weeks. For more advice about how to naturally care for your home, please see my recent article Tracy's Tips to Spring Cleaning.
Add an Indoor Garden
Many of us are choosing to cook and eat at home these days. Creating an indoor vegetable garden can help add variety to your cooking and keep you from needing to make frequent trips to the store. An added bonus: studies show that plants can act as leafy air filters to help clean the air we breathe in our homes. Most herbs will grow easily indoors, but when it comes to vegetables, some may do better outdoors. See my article Ways to Refresh Your Home for examples of vegetable to grow indoors.
Do Your Research Before Remodeling
Make sure you – or your designer – use "no VOC" or "low VOC" paints, stains, and polyurethanes. VOC stands for "volatile organic compounds," and are found in many building materials. These unstable chemicals let off gases that are very harmful to humans and the environment, which is why the government now regulates them. Try to buy wood cabinets and furniture made with solid wood rather than pressed or composite wood.
How can you incorporate these different elements that lead to a healthy home? When considering your overall design plan, chose eco-friendly styles that focus on a minimalist approach to design by incorporating simple and timeless pieces. For example, Scandinavian design blends modern tastes with traditional craftsmanship for a clean look that will last decades. Would you like to discuss more ways to combine design elements with a healthy home? Please contact me today!