TMD Inspiration
Creating a Cohesive Living Space
1350 Beverly Road, Suite 115
PMB 143
McLean, VA 22101
Interested in working with us?
Use the contact form to tell us more about your project. Someone will get back to you within 48 business hours.
Creating inspired interiors for discerning clients since 2003. Accepting clients in DC, Virginia, Maryland, and select cities throughout the United States.
Creating a Cohesive Living Space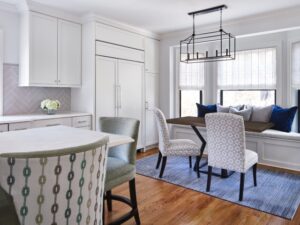 When people begin considering an interior design project, they usually think about the aesthetic aspects of design. New design trends, incorporating family heirlooms, and overall decorating style are often at the top of their thoughts. However, that is only one piece of the design puzzle. There are so many elements that go into designing the perfect room. From furniture selection to the positioning of wall art, many small decisions go into creating a cohesive space. Even the slightest "mistake" can throw off the entire room. In this article, we will take a look at how to design a cohesive living environment.
With each new design project, I like to begin by asking my clients a series of questions such as: Where do you find inspiration? What aesthetics do you hold dear, and how do want that to be reflected in your home? How does each space fit into the rest of your home? I ask my clients to seriously consider each of these questions, for the answers are the basis of any design project. Once we define the purpose and inspiration for the project, I begin to plan on the cohesiveness of the space. Here are some things to consider:
Traffic Flow
Perhaps the most impactful dimension to the cohesiveness of any floor plan is traffic flow. Some rooms have a traffic pattern that is set, such as a galley kitchen where the flow in and out of the space is preset. However, in a larger space such as an open-concept kitchen and living area, I like to follow the natural flow of traffic and set up well-defined zones. By using architectural features (such as screens) and accessories (such as area rugs), interior design can be used to artificially determine traffic flow.
Color Family
A set color scheme connects each room to the other. This does not mean that you have to paint the interior of your home one color—vary the amount of color used in each room, but they should be from the same color family (your primary color). Then add a couple of accent colors that carry-over from room to room. For example, if you have blue throw pillows in the family room incorporate this same color blue into the artwork used in the dining area or kitchen. While wood finishes (for flooring or moldings) fall outside of this prescribed color pallet, this too should be cohesive. By tying each room together with like colors, your home will instantly feel more cohesive and put-together.
Symmetry
Symmetrical design is often viewed as more pleasing because our brains don't have to work to figure out the use and flow of the space. It can be achieved through the use of patterns and the choice and arrangement of furniture. If you want to create an oasis away from the outside world, symmetry in design may be the key.
Would you like to see examples of cohesive design? Please visit the Projects page on my website or follow me on Instagram.