TMD Inspiration
Create a Special Holiday Season
1350 Beverly Road, Suite 115
PMB 143
McLean, VA 22101
Interested in working with us?
Use the contact form to tell us more about your project. Someone will get back to you within 48 business hours.
Creating inspired interiors for discerning clients since 2003. Accepting clients in DC, Virginia, Maryland, and select cities throughout the United States.
Create a Special Holiday Season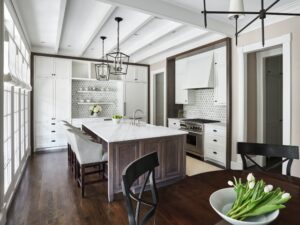 Due to the ongoing Covid-19 pandemic, the holiday season will be different for many of us this year. However, that doesn't mean that the holidays can't feel special. In fact, connecting with family and friends—either by virtual meetups, chatting on the phone, or sending a heartfelt note—may be the bright spot that we all need right now. Here are some ideas on how to make the holidays at home feel special this year.
Give Thanks. For many, the fall and winter holidays represent a day (or days) to share food, drinks, and togetherness. Even though this year will be different, don't forget to reach out to those you love; send a heartfelt note, a humorous card, or a beautiful floral centerpiece. Add warmth to your own celebrations by using traditional table settings and accessories. Though it may be easier to bypass the hours spent in the kitchen, make sure you prepare your family's favorite traditional recipes.
Don't Skip Time-Honored Traditions. Christmas tree and menorah lighting ceremonies, Christmas walks, and holiday performances are the backbone of many family holiday traditions. Many of these events are still scheduled to take place, just with a 2020 twist. Please follow Tracy Morris Design on Facebook for updates about events scheduled around the DC metro area.
Connect with Loved Ones. Don't overlook the most important aspect of the holidays: connecting with loved ones. Plan a Zoom Thanksgiving feast or a virtual family meetup to watch the big game. If you have family member who can't leave their home, plan a drive-by celebration.
Create New Traditions. Are you feeling stuck at home and, perhaps, isolated? Include some time outdoors—a walk, hike, bicycle ride, or a drive—as part of your holiday plans this year. Science shows that spending time outside, even just for a few minutes, will boost your mood and lower stress.
Help Others. Remember, as difficult as this season may be for us, it is especially challenging for our older and younger family members. Reach out to those who may be feeling isolated. Take extra time to explain to children why and how this season is so different from those in the past. And seek out volunteer opportunities in your communities.
Enjoy a Staycation. A staycation – that is, a vacation spent at home – can be a delightful way to relax, refresh, and enjoy the company of your loved ones. Please see my recent article for tips on how you can prep your home in advance to ensure that your staycation is as restful, fun, and memorable as traveling.
Head Outside. If you do choose to host a small, in-person holiday gathering this holiday season, the CDC recommends entertaining outdoors. In my recent article Tips to Outdoor Entertaining in the Cool Weather, I offer some thoughts on ways to create cozy and comfortable outdoor spaces for the holiday season.
From our homes to yours, we at Tracy Morris Design wish you all a very happy and safe holiday season!