TMD Inspiration
Appliance Guide – Trends for 2020
1350 Beverly Road, Suite 115
PMB 143
McLean, VA 22101
Interested in working with us?
Use the contact form to tell us more about your project. Someone will get back to you within 48 business hours.
Creating inspired interiors for discerning clients since 2003. Accepting clients in DC, Virginia, Maryland, and select cities throughout the United States.
Appliance Guide – Trends for 2020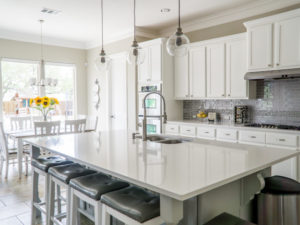 As we enter a new decade, the most in-demand kitchen appliances will combine both form and function. Homeowners are looking for sleek, modern looks combined with useable features to help ease the complications of a busy lifestyle. Here is a look at some of the products we expect to see in the new year:
Dishwashers that Dry
For some, it is a daily frustration … unloading clean, wet dishes from the dishwasher. In 2020, look for dishwashers that incorporate the mineral zeolite. The zeolite crystals reside in a sealed chamber inside the dishwasher and can absorb 30 percent of their weight in moisture from the wash cycle. The end result?  Quick and efficient drying.
Longer Lasting Produce
Fruits and vegetables will coexist better and stay fresh longer in a refrigerator that filters out ethylene gas. Ethylene gas is a plant hormone given off by ripening fruit that causes vegetables to rot. By incorporating an ethylene gas filter into the refrigerator door, the next generation of products will allow consumers to keep their vegetables crisp and delicious for a longer time.
An Oven Air Fryer
Up until now, air fryers have been a countertop appliance. In 2020, look for the ability to air fry inside your oven. The air fry mode uses a fan to circulate hot air causing the oven temperature to spike to brown the food. Then, it gradually cools down to cook the inside to perfection.
A Sink that Washes Dishes
Ideal for small kitchens, a new tiny sink dishwasher can wash about ten items at a time. By using a minimal amount of forced hot water (at 160°) and a few drops of dishwashing liquid, your dishes can be cleaned in no time.
Add Drama
Stainless steel appliances are classic. White finishes are more traditional. If you want to add drama to your kitchen in 2020, consider black stainless steel. However, one word of warning: Stick to the same brand for all your kitchen appliances if you want them to match, as each brand has a different take on black stainless.
A Smart Kitchen
From reading recipes aloud to popping popcorn, smart devices can be used for a myriad of tasks in the kitchen. And instead of sweeping the kitchen floor after dinner, just tell the smart vacuum to give a quick tidy up.