TMD Inspiration
Adding a Covered Porch to Your Home
1350 Beverly Road, Suite 115
PMB 143
McLean, VA 22101
Interested in working with us?
Use the contact form to tell us more about your project. Someone will get back to you within 48 business hours.
Creating inspired interiors for discerning clients since 2003. Accepting clients in DC, Virginia, Maryland, and select cities throughout the United States.
Adding a Covered Porch to Your Home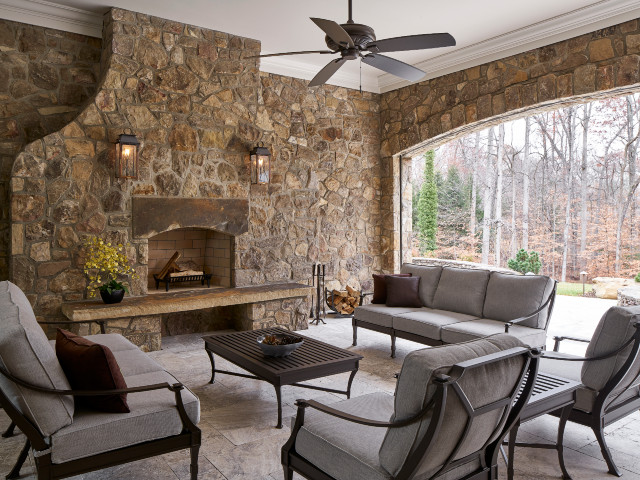 If having an outdoor space that invites you to step outside while still allowing protection from the elements is your dream, adding a covered porch to your home might be right for you.
Adding a covered porch enhances and extends your living space and increases your return on investment. A covered porch is a versatile addition where you can enjoy coffee, host guests, cozy up with a good book, and enjoy nature without being invaded by pesky bugs or raindrops. This article will help you understand the process of adding a covered porch to your home, as well as the benefits that including a covered porch in your home will create.
The Design and Construction Process:
Identifying your porch type: Before undergoing any design or construction process, it is important to understand what type of porch you want to add to your home. Do you want your porch screened in, or just a covered porch? Do you want to add your porch to the front, back, or side of your home? Would you like your porch to wrap around? Understanding your basic vision before diving deeper into the design process is important.
How will you use your porch? Another important feature to consider is how you plan to use your porch, as that will affect the design and construction process as well. How large do you want your porch to be: will you need to accommodate large dinner parties, or would you rather have a place to escape to find peace?
Design and materials: Knowing your design preferences is as important as how you plan to use your covered porch. If you're working with a builder, look through previous builds to garner inspiration. Once you have a grasp of the design you want, you must pick the material for your covered porch, whether that be concrete, wood, or a composite material that gives off a wood aesthetic with some of the perks of concrete.
Lighting and electrical: Consider where plugs, switches, and lighting fixtures should be placed to improve the functionality and atmosphere of your covered porch.
The Benefits of a Covered Porch:
Expanded living space: Adding a covered porch to your home increases the living space in your home, adds square footage, and gives you more space to enjoy life. Adding extra space can also be helpful for seating when entertaining guests or more private areas you can retreat to in your home. Your porch can also be a transitional space between your inside and outside areas.
Weather protected and year-round enjoyment: Another great benefit of adding a covered porch is that it allows you to spend more time outside, no matter what time of the year, as you are protected from the elements. Whether it's rainfall, snow, or hot sun rays, your covered porch can shield and shelter you from any inclement weather throughout the year.
Curb appeal: Lastly, one of the best benefits of adding a covered porch to your home is the curb appeal and increased value it brings to your home. Your covered porch will be a focal point in your home and elevate your property, making it an excellent investment.
Please contact us today to discuss your next home project.